"If musical accuracy is what you are seeking, the Milbert is most certainly the Holy Grail of auto sound."
Content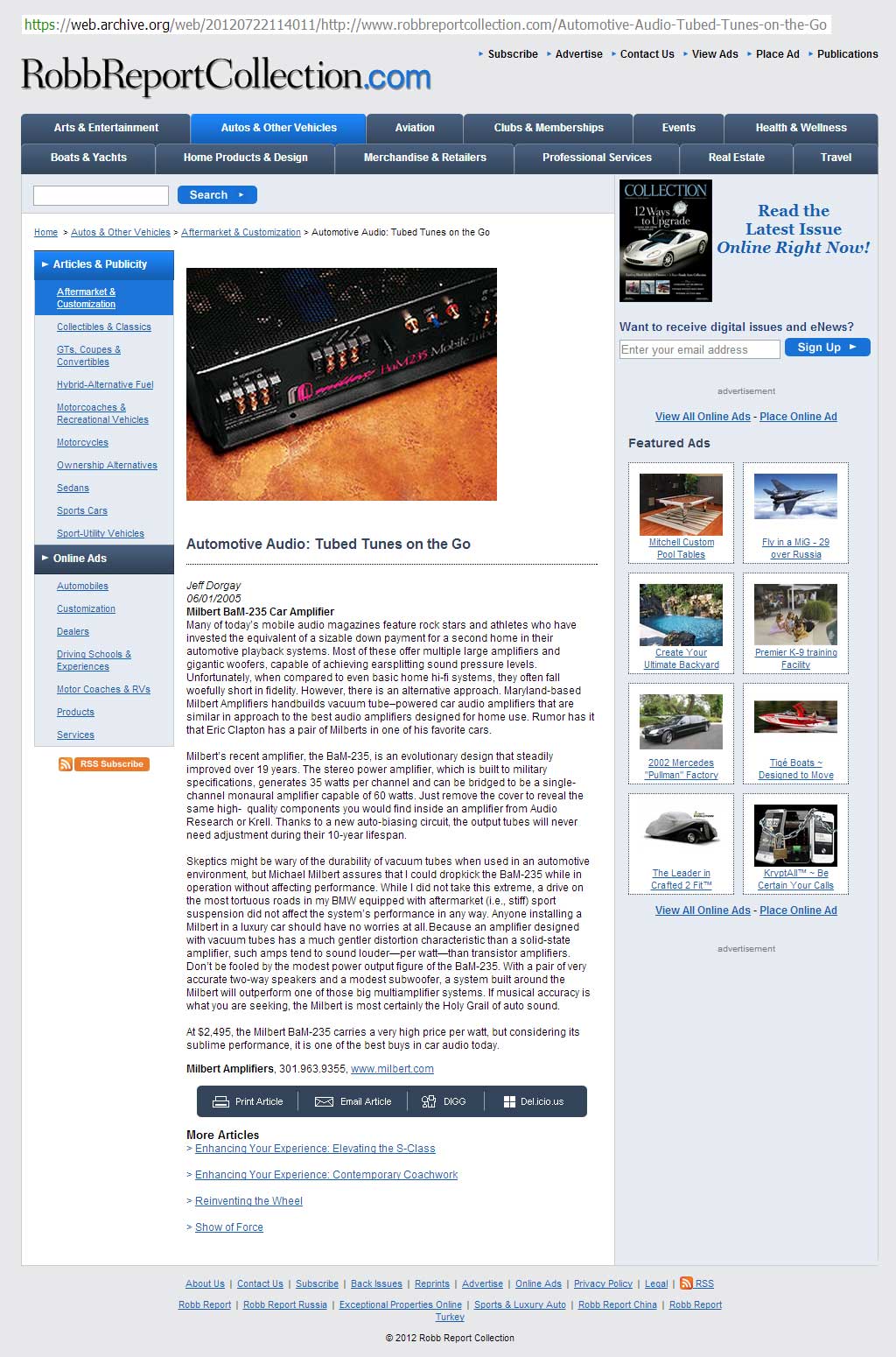 Jeff Dorgay
06 / 01 / 2005
Milbert BaM-235 Car Amplifier
Many of today's mobile audio magazines feature rock stars and athletes who have invested the equivalent of a sizable down payment for a second home in their automotive playback systems. Most of these offer multiple large amplifiers and gigantic woofers, capable of achieving earsplitting sound pressure levels. Unfortunately, when compared to even based home hi-fi systems, they often fall woefully short in fidelity. However, there is an alternative approach. Maryland-based Milbert Amplifiers handbuilds vacuum tube-powered car audio amplifiers that are similar in approach to the best audio amplifiers designed for home use. Rumor has it that Eric Clapton has a pair of Milberts in one of this favorite cars.
Milbert's recent amplifier, the BaM-235, is an evolutionary design that steadily improved over 19 years. The stereo power amplifier, which is built to military specifications, generates 35 watts per channel and can be bridged to be a single-channel monaural amplifier capable of 60 watts. Just remove the cover to reveal the same high-quality components you would find inside an amplifier from Audio Research or Krell. Thanks to a new auto-biasing circuit, the output tubes will never need adjustment during their 10-year lifespan.
Skeptics might be wary of the durability of vacuum tubes when used in an automotive environment, but Michael Milbert assures that I could dropkick the BaM-235 while in operation without affecting performance. While I did not take this extreme, a drive on the most tortuous roads in my BMW equipped with aftermarket (i.e., stiff) sport suspension did not affect the system's performance in any way. Anyone installing a Milbert in a luxury car should have no worries at all. Because an amplifier designed with vacuum tubes has a much gentler distortion characteristic than a solid-state amplifier, such amps tend to sound louder — per watt — than transistor amplifiers. Don't be fooled by the modest power output figure of the BaM-235. With a pair of very accurate two-way speakers and a modest subwoofer, a system built around the Milbert will outperform one of those big multiamplifier systems. If musical accuracy is what you are seeking, the Milbert is most certainly the Holy Grail of auto sound.
At $2,495, the Milbert BaM-235 carries a very high price per watt, but considering its sublime performance, it is one of the best buys in car audio today.
Milbert Amplifiers, https://www.milbert.com